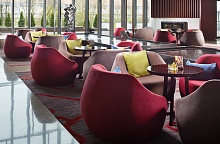 Lobby Bar
+375 (17) 329 77 77
---
11:00 - 23:00 (Su-Th) and 11:00 - 24:00 (Fr-Sa)
---
Lobby Bar
The lobby bar serves a big variety of alcoholic and non-alcoholic beverages. Lobby bar can be used like an perfect place for business meeting or just for relax after the long day. The hotel guests usually sit in the comfortable chairs with a cup of coffee or tea and look at the beautiful fountain with small lively chinese fish or at the picturesque view from the big panoramic windows.

If you're looking for a new relaxing place free of the city's noise and rushing crowds, pay your attention on the summer terrace of the Beijing Hotel Minsk.
The terrace is located in the city center and have an its own enter into the placed at the riverside park. On the summer terrace is available for ordering Lobby bar menu, Oasis cafe menu. If you want to try something, just ask the waiter for it.