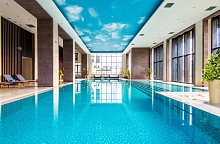 Aqua Zone
---
+375 (17) 329 77 77
daily from 9 a.m. till 9 p.m.
Price
Aqua Zone + Gym
Day session:
65 BYN (Mo-Th)
70 BYN (Fr-Su, holiday)
____________
Membership 6/12 months (1 person):
1800/2500 BYN
____________
Family unlimited
6/12 months:
3000/4050 BYN
____________
Happy Hours Membership (12:00-17:00)
6/12 months (1 person):
1200/1800 BYN
6/12 months (family):
2000/2800 BYN

Aqua Zone
Swimming pool is located on the hotel's first floor. It is a place of peace, relaxation and harmony. With views on picturesque park and the Svisloch river over the big panoramic windows, you can relax after a long day of work and swim in the pool.


Swimming pool is divided in two separate areas. One is for women only and another is only for men. Each area has its own sauna and whirlpool. Indoor pool is a place where two parts come together like Chinese traditional concept of yin and yang. Swimming pool is a place that helps you to bring your mind, body and soul back into harmony.


Dear guests, please note that the age limit is 6+ in the aqua zone, and 14+ in the gym. Recommended age for visiting the sauna and jacuzzi: 10+

Spa services are included for all registered hotel guests.
---